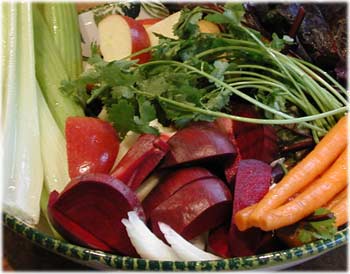 I thought borscht always contained cabbage. The internet asserts that real borscht never, ever contains cabbage. Is the internet right, if so what should I do with the cabbage I bought?
Borscht, sometimes borsch, is a beetroot soup that seems to have originated in the Baltic States. Which country Poland, Russia, Belarus, Lithuania or the Ukraine seems to be a matter of national pride. Outside the nation-states, Ashkenazi Jews also claim the soup's invention. On a local level, 'true' borscht varies from region to region, town to town, house to house and then cook to cook.
Much like attempting to definitively list what goes in a real cassoulet or a meatball, no good comes from a purity test. If I were making borscht I would simmer brisket and a shank bone, while separately cooking julienned beet and shredded cabbage in schmaltz. Combine the two, simmer and top with sour cream. Of course not being Jewish, Polish, Russian or a Uke; people might argue, that being raised in the rural to suburban Midwestern during the epoch of McDonalds, I can lay no claim whatsoever to the authenticity of any food.
Or maybe I am just the person to do so because my exposure to borsht comes directly from the deli experience. Delis preserved a moment in time – Russian Jews feeling late 19th century pogroms immigrated to the US – these new citizens both opened and patronized restaurants that produced a style of food served in the 'old country'. Funny thing, cuisines are dynamic - constantly evolving, changing. Delis are as much about nostalgia as they are brisket. The Deli became both a reminder of what was left behind and a cultural identifier in a new land – the menus and recipes are static.
Even staying away from that homogeneous source of information that is the internet - there are a dozen variations for borscht found in the Saucytorium - calling for ingredients as diverse as duck, confit, goose, mushrooms, potatoes, vinegar, kraut, tomatoes, sausage, ham, beef, brisket, marrow bones and one recipe claims in order to be really real – borscht needs kvass – a fermented beverage made of black bread, water and yeast. The constants in all the recipes: beets, onions and water. Sour Cream was the next most cited ingredient and Rassol/the liquid from preserved beets followed.
Marco Polo didn't return from China with spaghetti, the Earl of Sandwich wasn't the first person to put leftover meat between 2 pieces of bread (It was obviously the Duke of Panini) and I don't think there is ever one right way of making a dish – cooks use the ingredients at hand to forge their craft – if cabbage is around, use it, if not, don't go to the grocery store for it. Perhaps it would be easier to view borscht as an extended family, rather than a specific individual – sometimes cabbage shows up at the family reunion.
Share