Welcome back, Charlie. FOB, Charles Seluzicki is back this week with a little food history/artistry. Guiseppe Achimboldo wa
s an Italian painter known for rather complex portraits where subjects were depicted as food. Along the same vein, Carl Warner creates compositions with food. Mr. Seluzicki brings them together.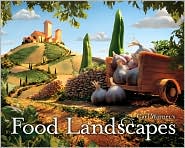 New York: Abrams Image, 2010
Last week CBS SUNDAY MORNING devoted one of its video essays to a visit with Carl Warner in his photographic studio in London. It is there that Warner creates ingenuous, meticulously constructed landscapes of fruits, vegetables, cheeses, fish and meats. The final products are haunting in their fantastical, otherworldly textures, colors and beauty. The photograph's of the most remarkable of his inventions have been recently collected in FOOD LANDSCAPES (2010).
Leafing through the lavish oblong folio, we witness Warner's process. His images seem to originate from two distinct methods of composition. The first is predicted by his breakthrough landscape of portobello mushrooms whose shapes he says "reminded me of trees from some African savannah." Here the color scheme is largely monochromatic but with a wild revelry of variegated texture created by the "ground" of beans and grains. The effect is fantastical, less African, more like the moon. This tight control of color and texture quickly gets extremely sophisticated in its effects. Witness the more recent "Salamiscapes." Prosciutto trees dot a Tuscan-inspired landscape of soft hills of mortadella, salami and pancetta. Again, backlit and dominated by the familiar red hues of cured meats under a cured meat sky, the effect is weird and unexpected. The same can be said of his red cabbage sea. Familiar scenes composed of strangely repurposed imagery plays havoc with the senses.
In another key entirely are "London Skyline" and "Chinese Junk." Here Warner's pallette knows no limits. The images are large, detailed and draw on wide variety of foodstuffs to achieve their enviable result.
Oh yeah, your nose looks like a pear
It was Guiseppi Arcimbaldo (1527-1573) who mastered this obsessive technique of recasting fruits and vegetables in his portraiture (which, curiously, fell out of favor shortly after his death.) It was not until the 19th century that he is rediscovered along with other eccentric talents, many of whom prefigure of surrealist movement's attachments to the fantastic. It is fitting that one royal requested that Arcimbaldo employ his skills to recast him as Vertumnus, the Roman god of vegetation and transformation.
It is wonderful to see this very impulse alive and flourishing with the combination of both respect for the raw materials and the technological innoventions so evident in Carl Warner's art.